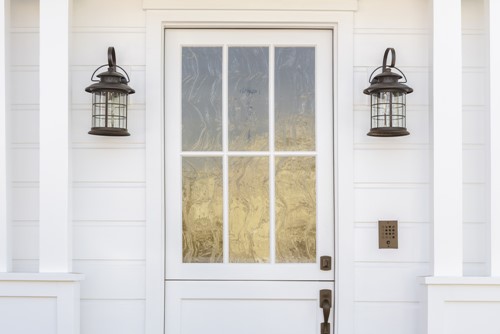 Image by David Papazian from Shutterstock
Porch lighting is an essential part of a home's curb appeal. It offers much more than help navigating in the dark or a pretty accent for your front door. A brightly lit porch can enhance security and also save you money on your energy bill.
Where will you place it?
The location of your porch light helps you choose the right fixture. When updating an existing light, your choices may be limited if you don't want to relocate your electricity or create additional patching or painting tasks. If your project is bigger or you are starting from scratch, your options are unlimited. In addition to the traditional placement on either side of the door, porch lights can be hung from above or be installed on posts.
What is the style of your home?
The architecture of your home also dictates the kind of fixture you should choose. If your home does not have any defining characteristics, your style is all you need. Porchlights can be found in several styles and designs with modern, casual and traditional options widely available. Consider a traditional style for a colonial home or a rustic fixture for a log cabin.
What is the size of your entry door?
The size of your porch light should balance with the size of your door. For example, if you have a standard-size door of six-feet eight-inches, it is recommended that your porch light be between 5 and 9 inches wide. A porch light that is 10 to 12 inches wide will balance with an eight-foot door. Choose the same or similar widths when installing multiple fixtures.
What are the features?
Motion sensitive porch lights feature a built-in sensor that turns on the light when a person or pet moves into the range of the sensor. A daylight sensitive light has a timer that automatically turns on the lights at dusk. Most decorative porch lights feature built-in dusk to dawn photoelectric eyes, which means you won't need to think about turning on the porch light.
If you want a bright porch light, check the wattage recommendations for the fixture you're considering. Do not exceed the fixture's wattage as this could cause damage. Replace your incandescent bulbs with LED bulbs or outdoor-rated compact fluorescent bulbs.
Installing the right porch light can add charm to your home and significantly boost your curb appeal. If you need guidance or installation assistance, ask your realtor for recommended lighting professionals or contractors to help with your project.