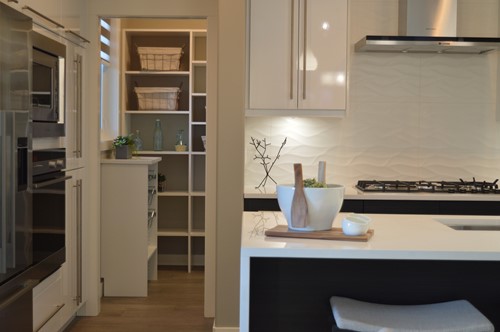 Photo by ErikaWittlieb via Pixabay
Storage is one of the biggest challenges when deciding how to decorate or plan a new home. It's tempting to throw everything into bins and stack them someplace in your garage, their contents forgotten ever after! If you do, though, there is a good chance you will waste money by purchasing things you already own -- and you may continue to add things until even thinking of tackling that stack of stuff you "might need someday" makes you break out into a cold sweat.
1. Sort your items.
Make a throw away, give away, and store pile for things you use infrequently or seasonally. If you struggle to throw things away, seek a second opinion: bring a friend and promise them whatever they want in return for helping you out, whether that's leaf-raking, a batch of cookies or return the favor when they need a little help. You can send your nicer giveaway items to a consignment shop if you wish, or head straight to a donation drop site, such as the Salvation Army or Goodwill.
2. Decide how much storage space you need.
After you're finished sorting, decide how much space you'll need for your storage. Some options include a section of your garage, attic, one bedroom, a mudroom or under-the-stairs storage space. Then, group your storage items by theme (seasonal clothing) or task (items for painting rooms). Consider how many groups of items you have and how you will store that many groups. Will you need more space for one type of item than another? A little pre-planning goes a long way.
3. Make everything do double-duty to save on space.
Benches with flip-lids for storage are an excellent option. Keep in mind that the seats should be comfortable without the addition of throws, pillows or pads -- you want it to be easy to get to your things, and that means no tugging throws or pillows on the floor to access your storage.
A clever solution for a garage or larger storage space is to purchase two (or four) cube storage organizers. Arrange these a few feet apart, place a tabletop between them and screw it in place: now you have under-table storage and a workspace! A standing workspace would work especially well in a garage area. Alternately, you can have a cube storage organizer on all four sides for maximum storage, if you place your table in the center of the room.
4. Make sure everything is within easy reach.
Use drawers, bins and stacked boxes: don't pile items and don't store things behind other items. Everything should be removable, so that you can pull out a box, use that type of item, and put the box away. Plastic boxes with snap-on lids are a good idea for garage storage, where there may be mice or dampness.
Another idea is to build shelving with depth and fill these with wicker baskets for storage.
5. Place items together by the task they accomplish.
For example, if you or your family enjoy painting but do not paint every day, fill one basket with brushes, paint, a plastic cup for water, paper and everything else you'd need for the task, rather than having one drawer or basket with art supplies you'd have to hunt through or different boxes for paint versus paper.
Perhaps you need a measuring tape for construction tasks as well as for sewing. Measuring tapes are inexpensive! Keep a measuring tape in both boxes rather than making yourself hunt for one any time you need to accomplish a task that requires it.
Only create such boxes or baskets for specialized tasks you perform at least a few times a year.
6. Choose your decor wisely.
There's nothing wrong with clean lines and elegant colors, but if you have a mudroom make sure that your floor is tile or vinyl so it can be wiped clean easily. If you do choose carpet for a storage room, choose dark tans or grays rather than anything paler: otherwise you may spend your life cleaning it! If you have white walls, keep a magic eraser nearby so you can wipe off scuffs as you find them. Finishes on cabinetry should be shiny rather than matte, so that they are easy to wipe. Avoid cloth and rustic, unfinished surfaces: they may look homey, but they are very hard to keep clean.
When faced with an organizational project, remember: a place for everything, and everything in its place!