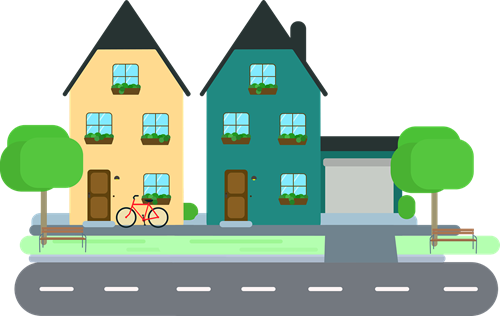 More and more communities are creating spaces for both individual homes and multifamily townhomes. Both styles offer lots of space, comfortable living and access to a neighborhood's amenities -- but there are some key differences that might make one style more suitable for you than another. Learning more about the differences between these styles of home can help you make the best possible decision for your family and needs.
Luxury Townhomes vs. Single Family Homes -- What's the Difference?
When luxury homes and townhomes are in the same neighborhood, they often have similar design styles, interiors and access to amenities, but there are some key differences to be aware of. Consider the following when you choose your next home.
Your family size: How much space do you need, both now and in the future? A growing family may find that a bedroom is needed for each child and that more living space is better -- or will be in the future. Singles or retirees may need a guestroom and space to entertain, but not a lot of extra bedrooms or living space, so a smaller, more compact townhome may be the best bet.
How much maintenance will you do? Do you love to garden, enjoy caring for the yard and the exterior of your home? If so, then a single family home will give you the space you need without being burdensome when it comes to maintenance. If you prefer to enjoy landscaping, hardscaping and even external maintenance and features that are cared for by someone else, then a townhome is likely a better option.
How do you feel about stairs? It may not matter now, but there may be a day in the future that a single level home serves you better than a home with stairs. Many, but not all townhomes are multilevel, so be sure you are comfortable with steps (or have space to make accommodations later). SIngle family homes are often (but not always) on a single level, making the entire home accessible.
Will you resell the home? If you expect to move again in a few years, then consider the resale value of the property. Your realtor is the best source of information here and can help you determine if one type of home moves more swiftly in your current location. Some markets can't keep up with demand for low-maintenance townhomes, while others have a huge demand for family homes. Knowing the preferences in your own area can help you determine how easy it will be to sell if you need to.
Which Home is Right for You?
Consider both your current needs and any potential future changes when you choose between these models. If you know you will have kids and want a big yard in the future, then a single family home is likely your best bet, even if you are not expecting right now. If you are enjoying your golden years, there may come a time that a big property and the care it needs may be too much for you -- investing in a stunning and comfortable townhome now will ensure you are comfortable later.